Liberal, Kansas, High School team bus.
The Montgomery County, Maryland, Commission on Human Rights looked at the topic of the "name change of the Washington DC football team" last Monday night. Three citizens attended to weigh in. One pushed for a name change. Two others, including Hog Heaven, argued against it.
The advocate for changing the name posed five rhetorical questions to the Commission. Answering them seemed perfect for my opening comment. Here are those questions and my answers, embellished a bit by points I should have thought to add.
Q: Would you attend the next meeting of the National Congress of American Indians (NCAI) and use that word to describe the members?
A: No, for two reasons.
Since my teen years, I've understood that Native Americans prefer to be called Native American, or Indian, or now "indigenous people." That last one is a mouthful,  so I prefer to use the term that includes the word "American" and have always done so.
I would not call them Redskins unless they played football because The Redskins means football and only football.
Q: Could you imagine the Redskins sponsoring an exhibit booth at the next NCAI Pow-Wow?
A: Yes, if they were invited and could be assured that those attending would at least be open to what the team has to say about their brand and logo. They would not have to agree, but lets at least respect that The Redskins and their fans are coming from a sincere place. There would be no reason to go and face finger-pointing by the closed-minded. There is no reason to visit Ray Halbritter's casino on the Oneida reservation in New York.
The Redskins have not been particularly swift in the public defense of their brand. They've won the Court cases. but they don't seem aware of their own franchise history based on gaps in their narrative. Daniel Snyder is a lightning rod in these things. He always is. Bruce Allen or another delegate would be the better public face.
I know of Native American fans that want to work with them, but the effort has not gone far. The 'Skins are twice-burned in that regard. Perhaps that makes them cautious.
Q: Do you think MLK, if alive today, would root for the "R-skins?"
A: "R-skins" is a typo. The word is Redskins, a brand of football entertainment. Who can say what MLK would think? He's dead. We cannot ask him. The question reflects the questioner, including who their heroes are.  Would Jack Kennedy have expanded the war in Viet Nam? Who can say.
King lived in Atlanta. It's unlikely he would have rooted for the Redskins, but he may have rooted for the Atlanta Braves, the team the Redskins were named after in 1932 when both were in Boston. Would King have agreed with Suzan Harjo that Braves is equal to The Redskins as an onerous slur because it is a Native American image for a non-Native American-owned sports team? No one can say.
Since King is a hero of mine, I will project to him my feeling that sports fans get it that mascots are a reflection of their team and not of real people. (A Native American Redskins fan said that.) You might disagree, but you cannot prove me wrong.
Q: Should something stay the same just because it is tradition? Our society is replete with example of "traditions" that are no longer valid.
A: Traditions should remain the same if they still serve their purpose for the people who hold it. We should not be forced to change them over contrived issues. This is a trademark issue about a brand of football entertainment. It is not a social justice issue.
Q: Why do we call it "Native American History Month" and not "Redskin History Month" if it is such an honor?
A: Because Native Americans prefer to be called Native Americans. The Redskins is about football and only about football. Redskins History Month would deal with the Washington Redskins football team. I propose March for Redskins History Month. The Redskins executed the trade with the Rams that led to Robert Griffin III on March 9, 2012.
County executive Isaiah Leggett is already on record as opposing the name, so I'm not sure, or at all optimistic, about what managers and appointed officials under his influence are going to say about it. But unlike the D.C. Council, who hopes to lure the team that shall not be named back to the District, the County vetted both sides of the debate in a full hearing. Hail to the Commission for that.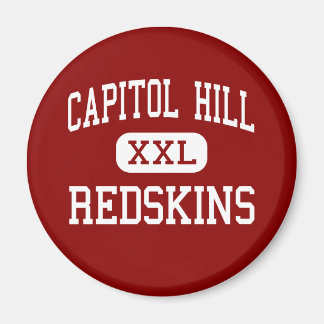 Speaking as a county resident and Democratic-leaning  Redskins fan, I have observed that professional Democrats are reliable critics of the team name and that professional Republicans are reliable critics of Dems who criticize the brand. That's more proof of two things about Washington.
Cultural values are major points of conflict in Washington and, since I'm with Republicans on this one, politics indeed makes very strange bedfellows.
What do you say to an anti-Redskins bigot? 
The topic is worthy of discussion if only because the issues challenging the Native American community are all too real and all of it the result of actions by the government of the United States taken on behalf of the people of the United States in the century before the Washington Redskins existed.
Most Redskins fans do not want to see a name change. We take Mr. Snyder's "NEVER in capital letters" statement as a promise. Most are flummoxed by what to say when confronted by others who have a bigoted attitude about the topic.
Hog Heaven has said a lot about it. Here's a list with links to Hog Heaven stories that might help someone.
Davis Elfin is wrong about the Redskins name change
Synopsis: David Elfin is a DC sports writer who argues the Redskins should change the name and that Daniel Snyder is missing a business opportunity by doing so. "The Redskins®" is a brand specific to football entertainment. The other word, "redskin" might be a negative term today largely because of Suzan Harjo's effort to denigrate the word as part of a larger agenda separate from The Redskins®. Not all Native Americans support that argument. Elfin minimizes the cost and difficulty he is asking Snyder to undertake. Snyder is the better business man. I'll take his word on it.
Dan Graziano is right about the Redskins team name
Synopsis: A few days after Elfin wrote his story, ESPN sports writer Dan Graziano wrote that public opinion did not matter in the debate about the Redskins team name. Graziano was responding to polls showing that the majority of survey respondents disagreed that the Redskins should be forced to change the name. In my response, I point out that federal Judge Kollar-Kotelly also wrote in her 2003 ruling that public perception was irrelevant to a trademark matter. What matters for an established brand is whether The Redskins themselves use the trademark in a disparaging way.
Mobile Report Wednesday: Our beloved team name
Synopsis: This is an exchange between one of my Hog Heaven readers and me. The reader is a Redskins fan who claims partial Native American descent.
More fans need to stand up for the Redskins team name
Synopsis: That's just what I'm trying to do with this effort. This story touches on Blackie Wetzel, the Native American leader who prompted the Redskins to put the Indian logo on the helmet.
Redskins name-changers and modern anti-Semitism
Synopsis: Scott Hirsch is a native of Montgomery County whose career has taken him out of the country. He still follows the Redskins. He posits that a part of the fervor against the team name is animus towards a disliked owner because of his heritage. Jewish acquaintances have expressed the same vague discomfort.
Pay attention to the casual linkage made from George Preston Marshall to Daniel Snyder. But Edward Bennett Williams and Jack Kent Cooke controlled the Redskins between Marshall and Snyder. Cooke owned the team during Snyder's formative years and Snyder bought the parent company from the Cooke estate. Snyder's attitude about roster demographics align more with Cooke's than with Marshall's. Yet, the anti-Redskins camp link Snyder to Marshall and then mock him for it.
George Preston Marshall was a neo-Confederate whose bigoted attitude toward black people was not at all out of place in the District of Columbia, or Montgomery County, in the 1930's through the mid-'60s. Trust me on this.
His critics poo-poo the notion that Marshall admired Indians, but Marshall was aware of their Confederate service by some Native Americans in the Civil War.
Brig. Gen. Stand Watie, a slave owning Cherokee, led a Confederate Calvary brigade in Texas and the Indian Territory (now Oklahoma). Watie's force was the last Confederate army standing after Appomattox. Federal forces entered Texas on June 19, 1865, to receive Watie's surrender (and to intimidate France out of Mexico). The federals brought the first news to the enslaved people there that they were free, prompting the cultural holiday Juneteenth that is still celebrated in the midwest.
The bottom line is that Marshall admired Indians for the same reason he hated Africans. He perceived Indians as fellow Confederates. He named his team for the MLB teams in Boston and he promoted the Native American angle. At least four members of his 1933 team were Native American players brought to the team with Lone Star Dietz who claimed Native American descent all his life. There is a picture of Jim Thorpe visiting Dietz, his classmate from the Carlisle Indian School, at a Redskins practice.
Would Obama say that to the Blackhawks?
Synopsis: This is another give and take with a Hog Heaven reader. While I note that Obama answered a question, rather than stake out a position on the team name, I wished he simply said that government officials do not make business decisions for private companies.
POTUS seem oblivious that the Harjo camp intends to go after his Chicago Blackhawks, Cleveland Indians, Atlanta Braves (again) and perhaps the Florida State Seminoles if they crush the Redskins. Why? Because they believe only Native Americans should control Native American symbols and images and that any other use by anyone else is derogatory. That's not the law. To her credit, Ms. Harjo is very open about seeking changes to "federal Indian policy" for unique interpretations of the law to apply to Indians. Yet, all anyone ever talks about is the logo of sports teams.
Bob Costas may split hairs and say that The Redskins is a slur, while The Braves is not. Ms. Harjo isn't having it.
Dan Snyder's message to Redskins fans about the name we love.
Synopsis: Mr. Snyder's October letter resonated in a big way with Redskins fans.
Oneida meeting with the NFL is off the mark
Synopsis: Five business reasons why The Redskins will not change the team name. Posted to the This Given Sunday blog.
Saving the best for last….
Native American fan tells why he is Blackfeet strong, Redskins proud
Synopsis: This is a guest post by a Native American Redskins fan in Montana who is a lifelong fan of the team because they are called The Redskins. It is the most-read story on Redskins Hog Heaven. If you only read one of these posts, read this one.