The Redskins really have two more roster cutoff dates. This Saturday and the bye week when Jarvis Jenkins and Chris Baker return from their suspensions (and perhaps
Carriker
, Hurt and maybe some new PUP members can get off the PUP list a bit later).
The thing to watch closely are the secondary decisions and especially who will start for week one.


Jose Gumbs
knocked the stuffing out of anyone that came near him this last preseason game. Everyone that received a good Gumbs hit ran off to the sideline holding their sides in clear discomfort. You want receivers to think twice when daring to catch near your safety.
Nonetheless, adding "Gummy Bear" (as Raheem Morris calls him) to the roster in place of Dejon Gomes would take a bit of guts on the Redskins coaching staff. They have shown guts already by seemingly deciding on starting Rambo as the free safety.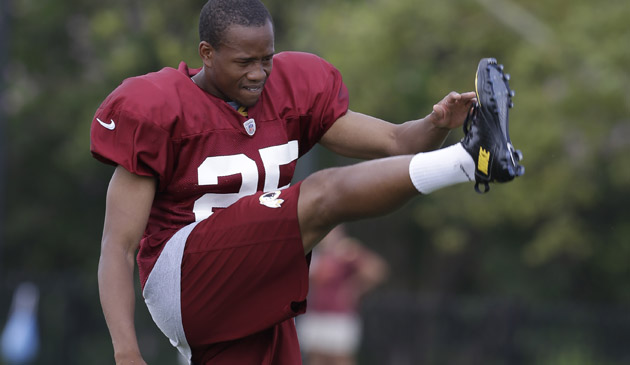 Chase Minnifield
The other big gutsy decisions are whether to start David Amerson and Chase Minnifield as the new cornerbacks. We'll know that answer when the season starts.
The question is, no guts, no glory in the secondary? Is it too risky to put so much faith in rookies all at once in the secondary?
The last time the Redskins showed such guts was starting a rookie QB and a rookie RB at the same time and, as a result, they won the NFC East.
#DJsDailyDose : when you are caught in a limbo and don't know what to do take a moment to talk to the Man #TooBlessedToBeStressed

— DeJon Gomes (@D_Gomes24) August 30, 2013
Enjoy this story? Tweet it to your followers and Like it on Facebook. Click the buttons that say "Tweet and "Like."