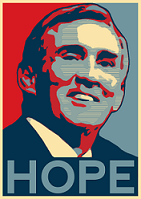 I rejoiced when Mike Shanahan came to Washington because I hoped to learn something new about building a winning football roster. It turns out that Shanahan is inscrutable if nothing else, especially when it comes to quarterback.
For example, Shanahan before the Draft said this about the quarterback class of 2011:
"This is deeper than most of the drafts that I've been in at the quarterback position. In fact, it's much deeper than I'm accustomed to since I've been in the National Football League."
Yet, Shanahan bypassed every opportunity to snag one of those quarterbacks. No action on Draft Day One spoke louder than the Redskins trading out of their tenth overall pick with Blaine Gabbert sitting right there in front of them. Thank you very much Jacksonville. You take the consensus No. 2 quarterback in this class; we'll take your draft picks.
What's going on here? The 2010 version of Shanahan would have grabbed Gabbert in a heartbeat, if, you know, he hadn't traded away valuable Draft picks for Donovan McNabb.
Redskins Hog Heaven readers already know our position that quarterback is not the most pressing need on this team. So I was delighted to see Washington devote the better part of this Draft on the building blocks pieces in this rebuilding program in every way but name. (Hey, the team won 10 games in the past two seasons. Why is "rebuilding" a dirty word?)
In trying to make sense of Shanny's recent comments about No. 2 quarterback John Beck, I revert to the Shanahan is inscrutable comment already noted.
You cannot tell what Mike Shanahan means by anything Mike Shanahan says.
Point after: Free agency limbo hasn't stopped quarterback trade rumors swirling about the Redskins. Well, 'tis the season for it. A story today on Football News Now describes speculation of a trade of Albert Haynesworth to Denver for Kyle Orton and supposed Redskins interest in everyone from Marc Bulger to Vince Young to Carson Palmer.
Hog Heaven's pre-Draft, pre-free agency, pre-any rational basis of thought prediction is a five-to-seven win season this year, no matter the quarterback and more so if McNabb is not under center. We can pick up a quarterback of the future in the next Draft after all the pieces are in place.
Worth reading: Matt Terl on Redskins.com – Looking at John Beck As a QB Prospect. Go take a look. We'll be here when you get back.
Have something to say about this story? Start the conversation with our new Comment System by Livefyre. Sign in with your Twitter or Facebook accouont.