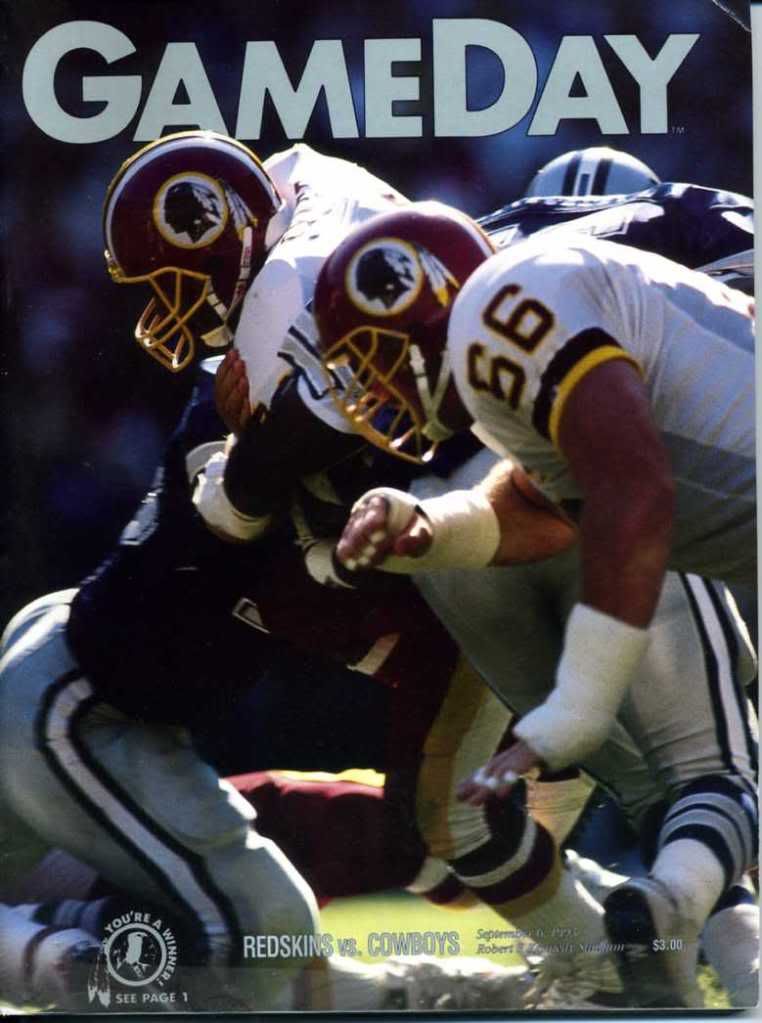 It's Cowboys Week in Washington and Redskins Week in Dallas. And this time it means something. The once bitter rivalry is not what it was because, sadly, the Redskins haven't held up our side of the deal. The Cowboys lead the series 29-13 since 1990. That includes the dismal 14-2 Cowboys run from 1997 when the Redskins moved to Jack Kent Cooke/FedEx Field through the 2004 season aka The second coming of Joe Gibbs.
The Redskins have been more competitive since the 2005 season going 6-6 against the 'Boys through last season. With that, a dormant rivalry awoke.
Going into Monday night's game against the Cowboys in Dallas, I turned to Darren, my Bloguin colleague who covers the team on The Cowboys Nation. He kindly answered questions you want to know about the Dallas Cowboys.
1.Two words: Dez Bryant. Your reaction?
Dez Bryant has great "potential" but at this moment in time, that's all he has. I liked what he did on his 3 catches against the Jets but then he couldn't finish the game and didn't even dress for the San Francisco game. Combine that with last year's injuries, I'm a little worried that injuries are all we will get out of Dez. Right now, Mr. Reality Show, Jesse Holley has the same amount of receptions for more yards and was a factor in why the Cowboys came away from San Fran with a win. Dez Bryant chose to wear #88 and he certainly isn't doing that number proud like Drew Pearson and Michael Irvin did.
2. What is Tony Romo's health status? Do you expect him to play Monday night?
Tony is a competitor and you know he wants in. He talked the coaches into letting him return on Sunday, however, we found out on Monday that not only did he have a broken rib, he also had a punctured lung. Had the coaching staff been aware of that injury on Sunday, no way he returns to the game. Even with the extra day, I don't see how the coaching staff feels comfortable letting him play Monday night unless he is a remarkable healer.
2a. If Romo can't go, how will Jon Kitna help your team win? How many fewer (or more) points will the Cowboys score with Kitna rather than Romo?
Cowboy fans only need to look to last season to know that they should have faith in Jon Kitna. He has been in this league a long time and he's more than capable of leading the 'Boys to a victory. Kitna isn't a freewheeling QB like Tony Romo is so I would expect that a Kitna led offense would be more reserved and score fewer points. With that said, Kitna does need time in practice with the first team in order to be successful.
3. With Marion Barber gone, I looked for Felix Jones to be the backfield workhorse for the Cowboys. But he is invisible on offense? What is the issue?
In preseason, it looked like Jones was going to have a big year and I still think he could, if he stays healthy, which is my big worry about him. Week 1 he was invisible because the Jets are tremendous at stopping the run. Week 2, he injured his shoulder and he only got the ball 9 times. The second issue is that the Cowboys have a number of injuries on the offensive line so the entire running game is suffering as they work their way through that.
4. What unknown player will make an impact on the Cowboys this season?
I'm hoping that Philip Tanner will get to show the world what he can do. I certainly like what I saw from him in the preseason and think he's shown more than DeMarco Murray or Tashard Choice have shown when filling in for Felix Jones.
5. Rank the NFC East quarterbacks. Why do you like them?
1. Michael Vick – I don't like Michael Vick as a person but as a football player, he's fun to watch. He's much different than the rest of the QB's in the division.
2. Tony Romo – He puts up great numbers, knows how to win games and yes, he makes mistakes but I would still take him over the other two in the division.
3. Eli Manning – If McNabb were still in Washington, I guarantee Eli would be #4 on this list. I'm just not a fan of Eli's and he certainly likes to throw the ball to the other team.
4. Rex Grossman – He's done well in the first 2 weeks but its Rex Grossman. I'm waiting for the other shoe to drop.
6. Does Cowboys-Redskins mean anything special to Cowboys' fans?
In recent years I think that rivalry has gone a little cold but growing up a Cowboy fan, there was nothing like that rivalry. Not only was it a great rivalry on the field, I remember Tom Landry doing a commercial after he was fired from Dallas where he sang the Waylon Jennings/Willie Nelson classic, "Mamas, don't let your babies grow up to be," and after a pause, sings, "Redskins!" I thought the rivalry would get a little push when the Redskins hire Mike Shanahan because it was rumored Jerry Jones wanted him as his next coach.
7. Your personal forecast for this game and the Cowboys season
I'm surprised by the way the Redskins have started the season but I don't think the Giants are very good and the Cardinals are a young team. I'm also fairly confident that the Rex Grossman the entire NFL knows will eventually find his way to the stadium. I'll go with Dallas in this game, 24-17.
I still think the Cowboys have the tools to find a way into the playoffs, even if it is done as the WildCard.
Thank you, Darren. Redskins Hog Heaven answered Darren's questions about the team. We will post the link when it is published on The Cowboys Nation.
I have to give a hat tip to Wikipedia for making it easy to research the win-loss record in the series. Don't care what they say about you, Wiki. I trust you.