The Washington Redskins are under new management. For the first time in 10 years, the discredited duo of Vinny Cerrato and Dan Snyder are not involved in decisions about the roster. I have my suspicions, but all outward signs point that way.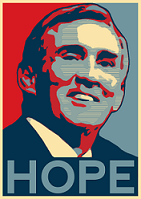 Redskins fans are on a learning curve for how the new management team of Mike Shanahan and, well, Mike Shanahan thinks. We trust he is better than the low bar set by Cerrato and Snyder, but Shanahan is not off to a good start after offseason 2010, nor does he explain himself well. It is not necessary to go into the whole Donovan McNabb adventure to show that.
How Shanahan thinks and how that will affect the draft is still a mystery to us, perhaps to Shanahan, too.
So, I had no idea how to respond to a question from Patrick the Star, a blogger covering the Houston Texans. Patrick suspects that the Texans' draft choice will be heavily influenced by whatever the Redskins do. The Texans have the 11th pick in the 2011 Draft. He approached us, the home of thoughtful analysis about the Redskins, for some insight.
The Redskins have so many needs in so many areas that a "best player available" pick would score a hit. The consensus is that Washington will select Julio Jones or AJ Green, both wide receivers, with their first round pick. Washington has stated its need for a pass rushing outside linebacker to balance Brian Orakpo. Since the normally reticent Redskins let this slip, treat it as disinformation for other teams.
But Washington has a clear need for 3-4 defense personnel. OLB Von Miller could be an enticing pick. So could one of the abundant first-round defensive ends in this draft. Pass rushers are unsexy picks who don't lead immediately to Super Bowls. (See Orakpo, Brian, and Williams, Mario)
Washington will pick a quarterback this draft and would have done so whether McNabb worked out or not. If Blaine Gabbert or Cam Newton is there when Washington picks tenth, that will be their choice. I don't see that happening. Washington can fill quarterback needs in the second round.
I say the Redskins take Julio Jones if he is there. If not, they go with a pass rusher. Let's use Von Miller as a placeholder just for fun.
For the top of Washington Draft Board, I'm listing:
Blaine Gabbert (won't be there), QB, Missouri
Julio Jones, WR, Alabama (may or may not be there)
Von Miller, OLB, Texas A&M
JJ Watt, DE, Wisconsin
Two points here. First, my draft board is based on the online scouting reports all bloggers rely on. I doubt Shanahan reads these things, so consider the names as placeholders. The positions are my real guess at how Shanahan may be leaning.
Second, Washington needs draft picks. They will trade down from their tenth pick, in preference to using it, for another second and a third round pick if offered. Finding a trading partner is always the hard part.
The Washingtonian who may wield the bigger influence on Houston is Kyle Shanahan, not Mike. Kyle learned the Shanahan offense at his father's knee, but was most recently Houston's offensive coordinator. If Washington signals intent to use their first pick on offense, Kyle's preferences might be an exact match with Texans coach and Shanahan disciple Gary Kubiak. That could trigger just the trade scenario the Shanahans want.
Houston's offense is in better shape than Washington's is. Their defense could use some love. The Texans may want to use their first round pick on a new toy for new defensive coordinator Wade Phillips. Both teams would love to have a nose tackle or a pass rusher. That, too, might spark a phone call from Houston if Washington is nosing around someone Houston really, really want.