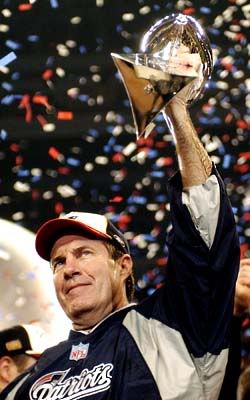 Everybody loves those Draft Day trades. They add drama to an otherwise boring process, yet they rarely happen.
Really astute teams manage these deals years before Draft Day. There is no better example than draft master Bill Belichick and the New England Patriots.
The Patriots finished 14-2, yet they have the 17th and the 28th pick in the 2011 Draft. Why? Because they traded DL Richard Seymour to the Oakland Raiders for the 17th pick…in 2009! The Pats traded Randy Moss to Minnesota for the Vikings' 2011 third round pick. Now, the Vikings have no Moss and the Pats have their pick. When did Snyderrato-ism migrate to Minnesota?
That's a pattern for Belichick. Remember the 2007 Spygate scandal? The league penalized New England their first round, 28th overall, pick of the 2008 Draft. Yet the Patriots selected Jerod Mayo with the 10th pick of the Draft. How did that happen? The Pats swapped a first round pick previously acquired from San Francisco and traded it to New Orleans who wanted to move up that year.
The actual swap was the first round pick acquired from San Francisco, seventh overall, and a fifth round pick to New Orleans for the Saints' first round, tenth overall, and third round picks. The announcement happened Draft Day, but was set up the year before. See? You didn't even notice that New England lost their own first round pick that year.
New England acquired the 2008 10th pick from San Francisco in a Draft Day 2007. The 49ers wanted to move up to pick Central Michigan offensive tackle Joe Staley who has since started 50 games. San Francisco's 5-11 season moved the value of the 2008 pick to 10th overall.
Here are the take-away points:
Don't trade picks for players. Trade players for picks. You have to be talent-rich like New England to back-fill talent while hoarding picks. The Redskins are several seasons away from being talent-rich, so they must play the free agent market, given where they are today. It's not a strategy for success. Philadelphia and San Diego follow New England's model. They are in contention as often as the Redskins are not. That's the point of this piece. I hope Mike Shanahan and Bruce Allen are working toward that strategy as part of this culture change we hear about.
We don't have to face New England every year, but Philadelphia is before us twice each year.
Don't trade your picks. Trade other team's picks. The Patriots save their natural draft picks, which are usually among the last five or six in the round. They use picks acquired from other teams for those dramatic new deals.
Acquire picks from weak teams. That gives you a selection in the top half of a Draft. New England must have been as surprised as anyone when the Oakland Raiders' surprising 2010 record of 8-8 dropped the value of their first round pick to 17th overall.
Don't wait until Draft Day to do draft deals. Draft Day is too late to cut the good deals. That's why we don't often see them. New England's Draft Day deals are years in the making. New England is successful because they use picks as a strategic competitive advantage, rather than tactically wasting them to sweeten deals. (Need I mention names?)
Learn from Bill Belichick, but do not trade with him. He will snooker you every time.