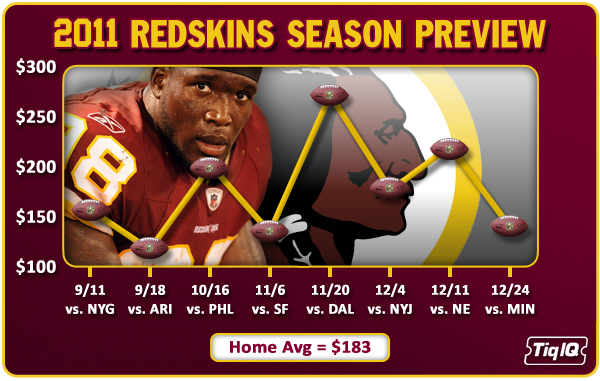 Ticket prices for the Cardinals at Redskins game are soft, perhaps reflecting the opponent. That's surprising after Washington's home win over the Giants and the good weather (71°, Clear to partly cloudy) expected for the outing.
TiqIQ shows lower bowl end zone seats (Sections 100s/200s) are offered for as low as $32 up to $175. Upper bowl end zone seats (Section 400s) can be had for as low as $24.
A few mid-field seats in the lower bowl (Section 100/200) are offered for as low as $59, but most sellers are asking $70 or better. Upper bowl mid-field seats have an opening auction price of $29 on ebay, but online brokers TiqIQ and Ticket Direct show prices ranging from $30 to $175 per seat.
The overall average resale price for Cardinals-Redskins is $98. Oddly, prices appear to be falling as we near game day. That is the exact opposite pricing behavior to expect as supply falls and kick-off looms.
Do not expect such generosity from ticket-holders in future games. The average overall resale price for Cowboys at Redskins is $171 and is even firmer when Michael Vick and the Eagles come a 'calling (average price $206).
As we 'Skins fans know, Vick loves to play at FedEx Field. I don't believe he has ever lost here–the subject of a little research before Eagles at Redskins on October 6.
FedEx is home field for Vick whose followers hail from Virginia's Tidewater Region and Virginia Tech. He will find a friendly reception, except when he's leading the Iggles to a score.
Prices are as stronge for the Redskins at Panthers game (average price $205), no doubt reflecting the effect of Cam Newton on local demand. Newton's effect on ticket demand is not lost on team owners who may pound the table and some heads on Draft Day 2012 when Andrew Luck is there for the taking…and at the rookie wage scale.
The season-high average price (US$218) for a Redskins game is the October 30 Washington vs. Buffalo contest played at Rogers Center in Toronto, Ontario. Yes, that's in Canada. You will need your passport. Only 477 tickets are available for that game.
In a sign of changing times and the power of the Internet, you may order your seats through brokers like TiqIQ right up to game day. You print your ticket at home, like an airline boarding pass, and present it at the stadium gate. Amazing.
These prices were good when I made the survey at 9:30 AM Eastern, today, Thursday, September 15, 2011. It's all about supply and demand, people. Prices will likely differ depending on when you make your transaction. We make no guarantees on availability.