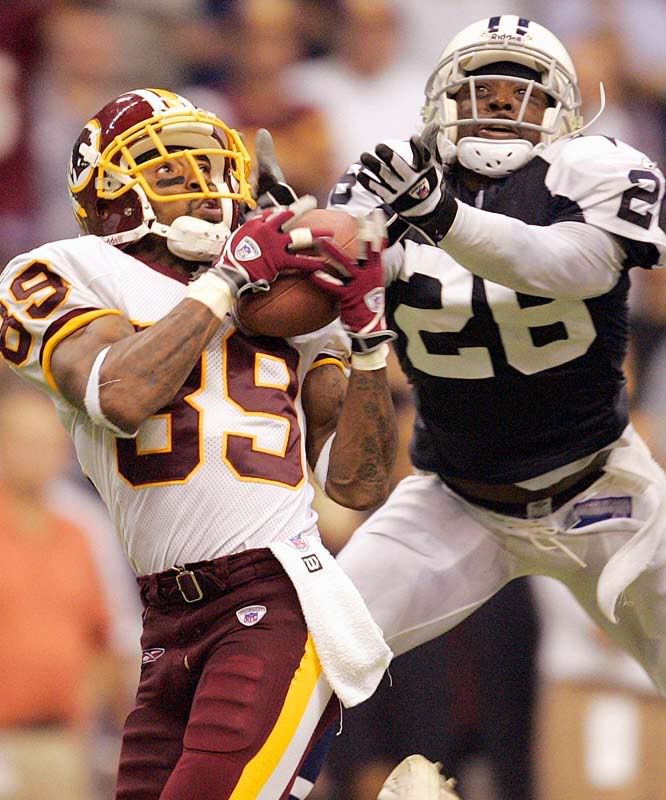 It has taken every my once of fortitude to resist changing my preseason prediction about tonight's Redskins at Cowboys game from "Loss" to "Win." But, I'm not going to do it. (Duck and cover)
Your Hog Heaven writers forecast a seven-win season for the Washington Redskins and we each predicted the team to split with the Cowboys. The difference was where the win would occur. Greg Trippiedi wrote three weeks ago that Washington would win in Dallas. I predicted the win on November 20 when the 'Boys come to FedEx Field. Full disclosure: I am buying a Redskins -Cowboys ticket, so that is where I want to see it happen.
Washington's strong start, if you can call a wins over an injury-riddled Giants and a not-yet-jelled Cardinals "strong," has everyone reassessing. The Cowboys only loss was to the New York Jets in Week One. There is no shame in losing to the Jets in their stadium. The Jets are stronger competition than the Giants are, for the moment, or Cards. The Cowboys were up by 14 before the game got away from them—more to blame for that than Tony Romo.
Dallas is favored by five points to win at home. Odds makers set that line because of fan wide support for America's Team. A check of the game stats points to a much closer game.
| | | | | |
| --- | --- | --- | --- | --- |
| TEAM | POINTS | YARDS | PASSING YARDS | RUSHING YARDS |
| Redskins | 25.0 | 393.5 | 270.5 | 123.0 |
| Cowboys | 25.5 | 431.0 | 376.5 | 54.5 |
Another argument in Washington's favor is the QB Passer Rating Differential for the two teams. Cold Hard Football Facts call this stat the most important in football. CHFF's describes it thusly on their web site:
"Passer Rating Differential is obtained by subtracting a team's Defensive Passer Rating from its Offensive Passer Rating. It is a Quality Stat because it has a direct correlation to victory. Teams with a high Passer Rating Differential are successful. Teams with a low Passer Rating Differential are not successful."
The Redskins are slightly better at the differential (9.3) than the Cowboys (7.5) are. Remember, the Cowboys did it against better competition.
CHFF made its case for the Passer Rating Differential in a June and an August 2011 post on SI.com. Both posts had a high head-nodding aura, so I used it for my predictions for the NFL Week Three in the This Given Sunday Writers' Poll.
Meh! As a stand-alone stat, the Differential was not predictive enough. I'm standing at 8-7 on my picks going into tonight's game. There were many upsets. Who outside of New York expected the Eagles to lose at home to the Giants? Buffalo over New England? Really?
Two games are enough to establish an average, but not nearly enough data points for the Differential to be suggest anything when the numbers are close. Washington's slight edge in that stat is a wash.
Ground game is the big differential tonight
What does jump out is the difference in the ground game. As our own Greg Trippiedi put it:
"There's no question on this one after two weeks: the Cowboys are one of the worst rushing teams in football. They have three useful backs, but their offensive line struggles to open up holes for their runners, and their receivers do not block. Furthermore, none of their three backs are the runner that Marion Barber was in his prime (2006-2008). Having depth at the position is one thing, but it's not going to prevent the Cowboys from having the 32nd ranked rushing game if the blocking up front doesn't improve. The inability to run the football makes the Cowboys a pass-first, second, and third team. But Romo's injury forces them to lean on the running game to protect him. In fact, the suckitude of the Cowboys rushing attack might be the biggest data point in support of starting Jon Kitna this week: dropping Tony Romo back 50 times in an attempt to beat the Redskins would be insane if not cruel."
Darren at Bloguin's The Cowboy Nation warns RHH readers to be wary of undrafted rookie running back Phillip Tanner who may be to Cowboys fans what Marcus Mason was to us: impressive in preseason. If the Cowboys have health issues with Felix Jones, they may have to run Tanner whether or not they want to. If the real problem is on Dallas' offensive line, it makes no difference who they start.
Clinton Portis was not popular in Washington going into last season, but the current rushers on the Redskins roster are not as good as CP in his healthy, good days. That is the point. Washington's running offense fell off the cliff when Portis was hurt. Tim Hightower and Roy Helu are healthier and these days faster than Portis v2010. Washington has to manage the flow of the game so that the "H backs" are a factor. In short, do not fall behind early.
I do not want the Redskins in a passing duel with the Cowboys. it has nothing to do with Romo or Jon Kitna. I do not want the Cowboys' defensive front to pin their ears back against Grossman.
Will LaRon Landry hurt them or us?
We expect to see "Dirty 30″ (Is that a compliment? Not sure.) in the line-up tonight. Landry is two games behind Reed Doughty and Kevin Barnes at strong safety. Expect to see rust against the Cowboys as Landry gets into game shape and cross your fingers that his hamstring holds up.
Men are not machines. They do not drop into games and play a peak performance from the get. The Cowboys will test Landry with a healthy tight end to see what he can really do. The Cowboys will cook up plays that force Landry to stress his hammy and watch the reaction. DC Jim Haslett will package Doughty in as many plays as Landry, I betcha.
I look for Landry to come around by the time the Redskins face the Eagles after the Bye. That would be right on time.
Redskins still low odds to make the playoffs
The Redskins two wins please fans but has not moved the needle on the outside world's view of the team. They still see division bottom dwellers. The wins have silenced for the moment Rex Grossman naysayers, although most are still waiting for an ah-ha performance.
Going into this weekend's games, AccuScore analyst Jonathan Lee wrote this to me about the 'Skins' postseason prospects:
"Washington is the only 2-0 team in the NFC East, but the Redskins saw no change in their playoff probability after a one point win over Arizona. The Redskins were already favored over the Cardinals, and they are more likely competing for a Wild Card spot rather than a division title. Philadelphia is still the favorite despite losing 6.3 percentage points this week. Dallas is actually close behind the Eagles, making the playoffs in 48.3 percent of simulations. The Cowboys, though, are already dealing with injuries to Austin Miles and Felix Jones as well as Tony Romo. New York got a solid win over the Rams but is still trailing several teams in the race for a playoff spot. The Giants are the ninth most likely team to make the postseason at 32.8 percent."
Even with Eagles' loss yesterday, the stat houses and sports books see Washington in division third or fourth place. Even so, I like this team better than last year's team and so should you. This year's roster has a future that you can see from here. That future is more promising than the "win now" teams we fed as recently as last year.
INJURY REPORT
REDSKINS
Questionable: S LaRon Landry, FB Mike Sellers, S DeJon Gomes and FB Darrel Young. All were limited in practice.
Probable: CB Josh Wlson, KR/PR Brandon Banks, TE Chris Cooley, LB Keyaron Fox, CB DeAngelo Hall, CB Josh Wilson and TE Logan Paulsen. All participated in the full practice.

COWBOYS
Out: WR Miles Austin, G Derrick Dockery and CB Orlando Scandrick.
Questionable: QB Tony Romo, WR Dez Bryant, K David Buehler and RB Felix Jones. All were limited in practice.
Probable: C Phil Costa, CB Mike Jenkins, G Bill Nagy, CB Terence Newman and LB Anthony Spencer. All went through the full practice.
New layer…New layer…New layer…