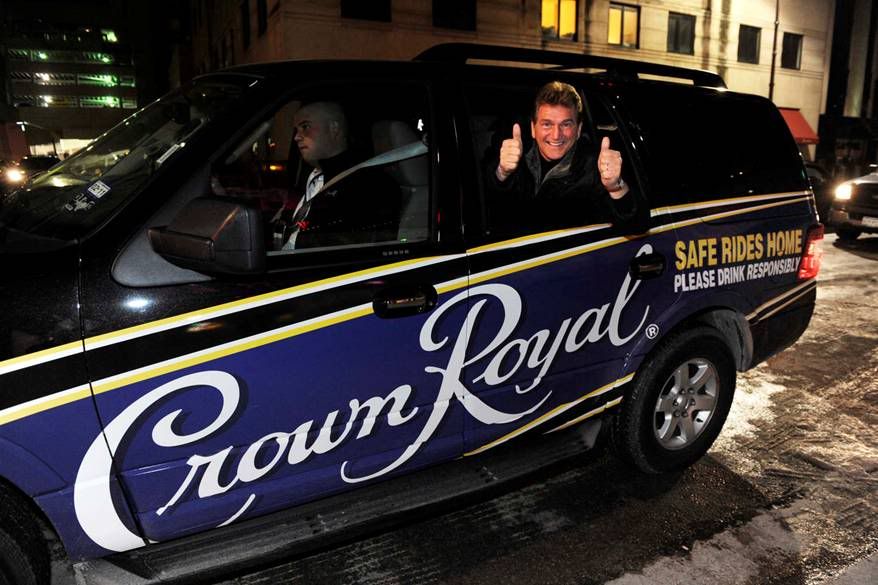 Super Bowl Sunday rivals Thanksgiving as a secular holiday for friends and family to gather around the warmth of the big screen TV to cement rrelationships by cheering your favorite team to batter the other team.
Unfortunately, Super Bowl Sunday rivals New Years Eve as an excuse to drink to excess. Officer Friendly and all his friends everywhere will be out in force looking…for you, if you don't know how to control yourselves. (You know who you are.)
The Super Bowl is nuch more than a football game. It's a two-week celebration leading up the championship of America's Game. Teams build billion dollar stadiums to attract a Super Bowl to their town. Super Bowl Sunday is the perfect day to Par-TAY.
Down in Dallas, Crown Royal (my favorite Canadian) offered free rides home to adults attending Thursday and Friday evening Super Bowl parties. Crown Royal did that to encourage responsible decisions by party animals less than, um, 100 percent alert to drive.
I couldn't talk Crown Royal into doing a "Safe Rides Home" gig in your town, so you have to do it. If you are going to a Super Bowl party, drink responsibly. If you are buzzed, don't even think about driving until you get unbuzzed.
You don't want to run into Officer Friendly, or worse, run into me, on the way home.
PHOTO: Joe Theisman Super Bowl fluff photo to promote Crown Royal's Safe Rides Home promotion. Credit – Jack Dempsey/ AP Images for Crown Royal. Used with permission.
Crown Royal is a Diageo company, official partner of the Washington Redskins.