If you love Redskins football, vote Philadelphia Eagles quarterback Michael Vick for the cover of EA Sports Madden 12 and the infamous curse that goes with it. Washington fans have always wanted to punch Vick's ticket. Do it now.
EA Sports is collaborating with ESPN SportsNation for a fan vote to select the NFL player for the cover of the next Madden football video game. Vick was successfully voted through three rounds of fan balloting to make the semi-final round along with Vikings running back Adrian Peterson, Packers quarterback Aaron Rodgers and Browns running back Peyton Hillis.
Vick is competing with Peterson in the race for the finals. Voting for semi-final round ends April 18. Vick won 61 percent of the vote to defeat 49ers linebacker Patrick Willis to make the semi-finals.
Redskins linebacker Brian Orakpo successfully eluded the race for the Madden Curse in the first round when he lost the vote to Giants wide receiver Hakeem Nicks.
Vick last appeared as a cover model on Madden 2004. He broke a bone in his leg and missed the first 12 games of the season.
If selected as the cover model, Vick would be the first Eagles player to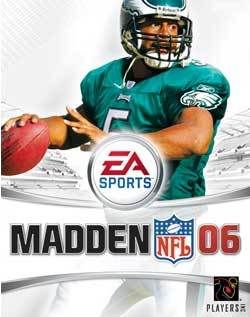 make the Madden cover since Donovan McNabb in 2005 (Madden 2006). McNabb suffered a sports hernia in the first game of that season. He tore his ACL in the ninth game and was lost for the season.
Here's the best and guilt-relieving part of this deal. Michael Vick wants to be selected, not withstanding his experience with Madden 2004. His Twitter feed @MikeVick gives a running account of the balloting and asks followers to cast their vote for him.
Lets get Michael Vick where we want him–on the bench. The curse could be a blessing.
Lawd know the 'Skins need every break they can get.