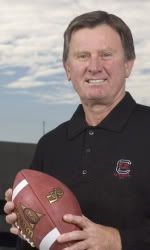 Down in Columbia, South Carolina, Steve Spurrier must have smiled Sunday. His tenure in the NFL (2002-03, 12-20) is considered another Dan Snyder blunder, but Spurrier's two coordinators of the 2003 season are making big noise in the NFL today.
Former Spurrier Washington Redskins offensive coordinator Hue Jackson is head coach of the 3-2 Oakland Raiders. Sometimes, fans and sports reporters recall that Jackson passed through Washington, and then was washed out with The Ol' Ball Coach. How many people remember that Buffalo Bills (4-1) defensive coordinator George Edwards was Spurrier's DC?
Jackson's Raiders won the emotional game in Houston against the Texans I knew they would win. Al Davis' death is a powerful motivator that will fuel the Raiders through the end of the season.
And those Bills! Edwards' defense entered the weekend as the 29th-ranked defense in yards. So what? New England was dead last Sunday morning. Both the Patriots and Bills sit atop the AFC East at 4-1.
The Bills lead the lead the league in interceptions. They victimized Michael Vick with five more picks. The last was not Vick's fault. His accurate pass to Jason Avant ricocheted off Avant's leg after it was stripped by Drayton Florence and into Nick Barnett's hands. That turnover killed Philadelphia's valiant comeback attempt.
Third down stops, passes defended and turnovers are how to defend in a pass-happy league. Edwards has his guys playing at a high level on that turnover part.
Jackson and Edwards could be additional former Redskins who make it to a Super Bowl before Dan Snyder does, like Ryan Clark, Brad Johnson and Antonio Pierce. Snyder hired very good football people under his ownership. Something happens to them when they get here.
You can follow our Daniel Snyder search results to see all our theories about what and why. But, two key ones are that Snyder had those good people in the wrong places and that he did not give them time to work through adversity.
Spurrier, for example, gave every indication that he just wanted to run the offense and to be shielded from the rigors of decisions and people-management. You know, head coaching and general managing. This man should have been the offensive coordinator he wanted to be. Snyder lured head coach-ready Marvin Lewis from Baltimore to be defensive coordinator. Snyder's discussions with Bobby Beathard to return was not successful for reasons neither side have revealed.
Lewis would have remained with the 'Skins if he were head coach. Spurrier might have been successful for longer than two seasons if he could have focused solely on offense. Lewis has a long, if bumpy, tenure with the Cincinnati Bengals. Spurrier is rebuilding the South Carolina Gamecocks into a SEC power. Now Jackson and Edwards are having their day. Good people.
There is no shame to be cut or fired in the NFL. That's how most pro careers end. Until that happens, living well is the best revenge.
Point after: I believe that Hue Jackson and George Edwards are the first instance of an NFL team having two African-American coordinators in one season (not researched). No one made a big deal if it. In an ideal world, that is just as it should be.