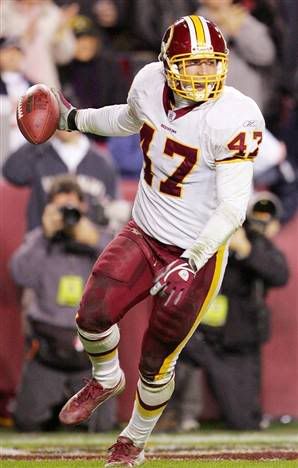 The hits just keep on coming for the Washington Redskins. The team announced Tuesday evening that they placed star tight end Chris Cooley on the Injured Reserve list, ending his season for 2011. The news comes one day after head coach Mike Shanahan said that RB Tim Hightower would be added to the IR list later this week.
Capt. Chaos, as Cooley is affectionately known, has been hobbled by his knee since preseason. He appeared in five games and caught eight passes for 65 yards. Cooley fractured his finger in the Philadelphia Eagles game.
The Redskins did not specify whether they placed Cooley on the IR list because of his finger or his knee. Cooley had a MRI on the knee yesterday and consulted with Dr. James Andrews.
The Redskins medical staff recommended that QB Rex Grossman be hospitalized 48 hours upon the team's return from Charlotte for treatment of pneumonia, according to a story by The Washington Post. The story did not specify the hospital.
With Cooley in IR, the Redskins have room to add a player to the roster. Speed of Grossman's recovery will determine whether that player will be a free agent quarterback or player from the current practice squad. QB Jonathan Crompton (Tennessee) is on Washington's practice squad.