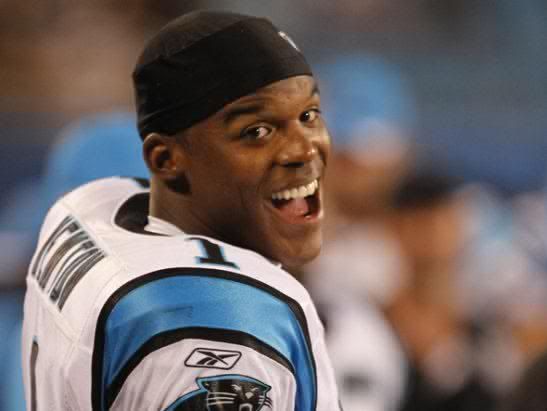 Carolina quarterback Cam Newton entered the Redskins-Panthers game with 13 total touchdowns and 10 turnovers over six games. The Washington Redskins entered the game with nine total touchdowns and 11 turnovers over five games. Cam Newton ended the day with 15 total touchdowns and 10 turnovers. The Redskins ended the day with 11 total touchdowns and total 14 turnovers.
That was the game in a nutshell. Cam Newton beat the Redskins. The final score was Panthers 33, Redskins 20 because placekickers and a few other people played minor roles. The key point, though, is that for the second straight week, the 'Skins failed to beat a previously one-win team with a mobile quarterback.
Thank Heaven the Redskins play the 4-2 Buffalo Bills and the 5-1 San Francisco 49ers over the next two games or this agony might never end. Washington has the habit of upsetting a few good teams then losing where they should not. Fans never know what to make of the Redskins (so we make them out to be contenders every time).
As it sinks in to fans that the Redskins show the profile of a .500 team, Hog Heaven points out that mobile quarterbacks have long been the bane of the team. Washington has never beaten Vince young, Michael Vick…or Donovan McNabb (Checking on that one). We expected trouble with Newton. The surprise is that the offense did not have their way with Carolina's lightly regarded defense.
John Beck earned a shot at a second start by completing 59 percent of his passes for two total touchdowns. His passer rating was 80.8. His productivity, as measured by yards per attempt, was over the acceptable threshhold of 7.0. His interception did not help, nor did his intentional grounding penalty. He showed that the 'Skins can play competitive ball with him under center, just as they showd with Grossman. No promises beyond that.
Tim Hightower was the game's high rusher (88 yards). Washington should have done better against a defense that allowed 133 rushing yards per game and nine touchdowns on the season coming into the contest. The 'Skins gained a net 92 yards and no rushing scores by a back. Beck ran for a four-yard third-quarter score that reignited hope after a snoozer of a first half (five field goals with Panthers ahead 9-6).
Rookie Draft picks Niles Paul and DeJon Gomes appearance in this game is proof (as if any were needed) that the Redskins need to use their draft picks instead of throwing them into trade deals as the Snyderskins have done pre-2011. It's football. There are injuries. Good front offices plan for them. Shanahan and Bruce Allen get high marks from Hog Heaven for their 2011 offseason for doing that very thing. That is in marked contrast to 2010 when the pair did things the Snyderrato way. The Redskins are better off for this year's draft strategy, It is reason for optimism that we hope will continue.
Depth has been an issue in Washington for a very long time. So has the inability to keep pace with high scoring teams.
Washington can recover from the loss. There are 10 games left and room to grow. Injuries suffered the past two games are scary.
LT Trent Williams, LG Kory Lichtensteiger, S Oshiomogho Atogwe, TE Chris Cooley were already out. QB Rex Grossman received treatment for pneumonia pregame. WR Santana Moss suffered a broken hand and RB Tim Hightower suffered a knee injury during the game. ILB London Fletcher tweaked (I hope) his hamstring and sat out much of the second half.
Moss and Hightower may miss extended playing time. Fletcher will be evaluated day-to-day. We will update this post Monday afternoon as the Redskins release the details.
UPDATE: WR Santana Moss will miss five to seven weeks after surgery for his broken left hand. RB Tim Hightower is believed to have suffered a torn ACL and is expected to miss the rest of the season.
Point after: Every time you lose you die a little; not all of your organs, a portion of you; maybe just your liver. ~~ George Allen