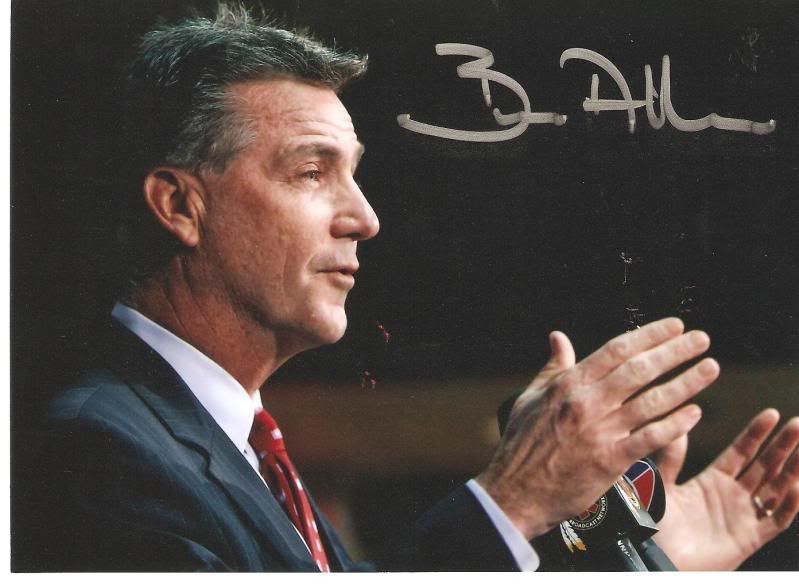 Finally, The NFL is pulling out its big guns–football teams–to explain itself to fans. Up to now, the players have been winning in the court of public opinion by positioning themselves as defenders to the public's right to football.
Washington Redskins GM Bruce Allen released an open letter to fans on Redskins.com today on the state of labor negotiations. Here's an excerpt from Allen's Dear Fans letter:
"Last Friday, negotiations between the NFL and the NFL Players Association ended without a new Collective Bargaining Agreement. Unfortunately, the union's abandonment of bargaining and subsequent decertification led to the league's difficult but necessary step to lock out, something we tried hard to avoid. We remain committed to getting a new deal done and believe that the fastest way to a fair agreement is through mediation and not litigation.
"We share your disappointment with the lack of progress. The offer that the union walked away from was fair and addressed many of the key issues, including a rookie compensation system, enhanced player healthy and safety measures, improved retired player benefits and compromises on the union's financial demands."
To read more, look here.
The emphasis points in Allen's are mine, but they are the impressions Allen surely want's you to have. It's a fuzzy start for the side playing from behind for the hearts and minds of football fans.
The players condensed complex contract issues to eight simple, easily understood points. The players opened NFLLockout.com to succinctly state their position. They opened that site the moment they shut down NFLPlayers.com, which they did the moment they decertified the NFLPA as their bargaining unit.
The owner's respond on their site, NFLLabor.com that they set up without shutting down NFL.com. NFL Labor is all words, all business, all boring. NFL Lockout's posts are short easy reads. Fans want this story in small, easy to understand nuggets. The player's side delivers that, so they are winning the battle for fans.
Here's a definition of irony for you. The owners' site is called NFL "Labor" and the players' site is NFL "Lockout." These guys need a cross-link agreement.
All of the teams issued letters to fans. But fans today are Twitterized. We need that stuffed condensed to 140 words or less. Wonks, like me, get into the move-counter move aspect of all this, but fans' eyes glaze over. Allen's letter won't be much read.
Purple Jesus Diaries skewers his team's letter with The Totally Legit Unedited Vikings Letter to Season Ticket Holders. If you know PJD, you know his version is completely illegit and heavily edited for humor.
What are our Beastly rivals saying to their fans?
John Mara's Message to Giants Fans:
"The last thing we wanted is for the business end of our sport to play out this way. We know people frankly don't care how owners and players manage their business. These negotiations distract and detract from what is most important to all of us: the game."
Letter from Jeffrey Lurie and Joe Banner (Eagles):
"We want you to know our focus is on preparation for the 2011 season and we are going to continue to do everything we can to strengthen our football team. We will be ready to take advantage of all opportunities within league rules to help reach our ultimate goal."
I didn't find an open letter from Jerry Jones to Cowboys's fans (that figures), but he was widely quoted in news stories last Saturday.
"The answer is, we'll get it done," Jones told reporters. "The answer is, we won't miss any football. Certainly, that is our goal. Their move into litigation will ultimately result in going right back into negotiation, in our view."